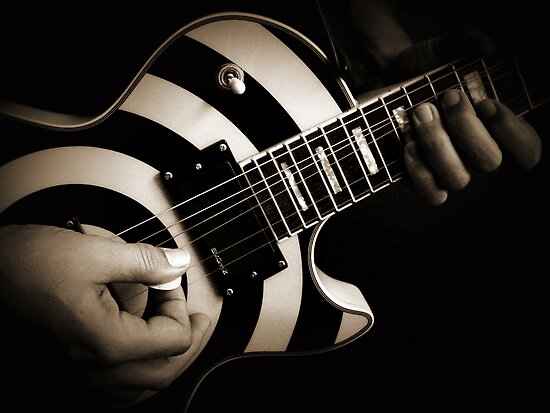 In the last installment of Battle of the Guitar Courses, I highlighted 3 of my favorite beginner guitar courses on DVD.  In this installment we will be looking at 3 more beginner guitar programs but this time the courses are online based.
Disclosure: We are sometimes awarded commissions on the sales of products and services featured on this site. We test each product thoroughly and recommend only what we believe to be the very best.
There are pros and cons to online guitar lessons vs DVDs.  Generally with online lessons, content is updated so for your subscription fee that you pay each month, you get new content.  Something DVDs cant offer.  In addition, you can take those guitar lessons with you and practice to them wherever you have an internet connection.  Generally you get more content with a guitar lesson website than a DVD package.  The sites that I will highlight below literally have thousands of guitar lesson videos.
The downside to online guitar lessons is there is nothing tangible like with DVDs.  For some people they like to have that physical item to hold.  In addition you have to remain a subscriber to have access to the lessons.  This is no different than having a private guitar teacher though.
Here are 3 of my favorite online guitar lesson websites that can help the beginning guitar player in their journey-
GuitarJamz.com
GuitarJamz– Guitar instructor and owner of GuitarJamz, Marty Schwartz is one of the biggest names for guitar instruction on Youtube.  I think a lot of what makes Marty so great is his personality.  Very down to earth and knows how to teach.  He primarily covers blues, classic rock and acoustic guitar.  Sorry Metal heads but Marty may not be the best choice for you.  His online membership site is fantastic.  There are a ton of lessons on there that are broken out in to catagories such as Beginners, Master Classes, Jam Tracks, Music Theory etc.  He offers a full access 3 day trial for the online membership.
Guitar Jamz is a very free flowing site. If you're a fan of learning a little bit about a lot rather then following a specific lesson plan then GuitarJamz is an excellent alternative to some of the more main stream online lesson sites.
Fantastic Blues Content
Guitar Jamz's strongest suit is Marty's blues lessons. It's evident from the free videos available online as well as the membership content  on the Gutiar Jamz website that he loves the blues. There's more blues lessons then anything else, and he offers a ton of content to learn from.
Downside
Some of the complaints that I have heard about GuitarJamz is that the beginners section felt a bit jumbled and not laid out as orderly as it could be or that other sites do such as what you see in the Core Learning setup on GuitarTricks or the Beginner Curriculum on JamPlay.  Those structured road maps are great but you really dont need them.  Learning to play the guitar is art, not science and doesnt necessarily have to be taught in a linear fashion.  For you beginners, follow Marty's beginner section and you'll be just fine.  Don't be so concerned about the next step.  Enjoy the one you are in.
GuitarJamz is also a bit more expensive.  At $29 a month, that is twice that of Gutiar Tricks and $10 more a month then JamPlay.  He does have 3 month and annual memberships that are a bit cheaper. With that said, if you are a beginner, paying a bit more for GuitarJamz is a better option as I think Marty caters more to the beginner and early intermediate.  GuitarTricks is definitely more intermediate and above.  I think JamPlay has the best spread in terms of covering beginner all the way to advanced.
Another area that sites like GuitarTricks and JamPlay beat out GuitarJamz is they have dozens of instructors.  There is only one Marty Schwartz.  If you don't like Marty's teaching style, there is no alternative on GuitarJamz.  I haven't heard of too many people that don't enjoy him though.
Conclusion
Marty's teaching style is fun and easy going and his knowledge about blues playing, improvising and theory is awesome.  His personality is what makes him stand out as one of the most popular internet guitar teachers.  I would not look to him for lessons on metal but his song lessons are a lot of fun and easy to understand and he is a very good blues player.  He makes for a great coach for beginning students.  He used to teach guitar in an elementary school and still carries that teaching style where as he keeps things simple and wont bog you down with stuff you dont need.
I would definitely recommend him to the beginners, blues players and overall average player looking for some fun guitar lessons.  A 3 day free trial doesn't hurt either.
GuitarTricks.com

Guitar Tricks has won a number of awards including Players Choice by Acoustic Guitar magazine in 2011 and the 2011 Davey Awards.  They have a large number of instructors that do a very good job at teaching and have likable personalities.   They also cover all styles of music.  The song lesson section is huge and there are a lot of songs on there that you dont find on other sites.
One powerful feature of Guitar Tricks is that almost every video guitar lesson includes supplemental material such as diagrams, exercises, and tablature. They also give you the option to print the lesson material.
Probably the coolest feature of Guitar Tricks is that they actually allow you download the video lesson to your computer.  That has to be one of the biggest downsides to membership sites.  GuitarTricks.com recognized that and allows you to download their video lessons.   Most online video guitar sites don't allow you to do this.
Guitar Tricks has an active community forum that many of their members regularly contribute to.  There are specific forums where you can interact with the instructors in case you have questions about a lesson.
How the site is Organized:
You can view the site's diverse course material by category. They have all major guitar genres represented including, acoustic, alternative, jazz, funk, metal, bluegrass and more. They also have a nice catagory called "Artist Studies" where a lesson is focused on teaching the a style and the techniques of a specific artist.  Some of the current artists on there include Angus Young, James Hetfield, BB King, Iron Maiden and David Gilmore.  Other categories include chords, exercises, techniques, theory, reference, and beginners.  As I mentioned before the song category is huge and icludes a lot of songs that you wont see on other sites.  This was a huge bonus for me as I was getting sick of seeing the same songs being taught and GuitarTricks.com offered me that variety.
In conclusion I can say that GuitarTricks is a huge video guitar lesson database, which is suitable for all player skill levels. Because of the wide variety of material available on the site, it might be tempting to skip around.  I would suggest taking some time to look around the site to see what it has to offer and use their bookmark feature to save your favorites and then get to work.  They also have their Core Learning System that guides you through the most important lessons you need to learn based on the style you choose. The only gripe that I have is that the quality of some of the older videos werent as good as the newer stuff but technology has improved a lot in the last 10 years GuitarTricks has been around so its understandable.  The content of the lessons is solid though.  Guitar Tricks is a incredibly affordable online video guitar lessons site with helpful tools and experienced instructors that will help you improve as a guitar player.  Easily my favorite online membership site for learning guitar.  They offer a full access 14 day trial to test drive the site so you can see if its right for you.  Click the banner below to check it out
JamPlay.com
 JamPlay has really grown in the last several  years since they started.  They cover such  a wide array of genres and musical tastes.  They now have 45 teachers and over 2,000  lessons in HD.  If you want to learn it,  Jamplay has a lesson on it.  The cool thing  about Jamplay is that they have so many instructors that if you dont like the style of one, there are 44 more to pick from.  Great site for all levels of player to Learn to Play Guitar Online.  I actually used JamPlay several years ago to relearn to play guitar after a 15 year hiatus.  I definitely think they are an excellent site for beginners.  Some of the instructors are a bit odd and actually bothered me but with 45 of them, I simply chose the videos of a different instructor.
The cost is a bit higher than say GuitarTricks as JamPlay is $19.95/month but if you purchase the 3 month plan, it comes out to $16.65/month and a year subscription comes out to only $11.66/month.  So if you buy a longer term subscription it gets pretty cheap.
Features
The JamPlay Chord Library was built with the guitar student in mind: an easy to use, comprehensive display of all chords available.  More than any guitar player would ever need.
In addition, this library gives you the ability to make custom, printable chord sheets, perfect for managing your practice routine or saving a chord progression.  They also have an extensive scale library to help you with your solo and improvisation skills.
Paired with their Scale Library,  the JamTracks provide you with everything you need to refine your lead playing.  JamPlay also has fun interactive games to help you improve your skills in fretboard memorization, note identification and music notation.  Another really cool feature is the massive and I mean MASSIVE libary of videos that teach you individual licks and riffs to help give you ideas to create your own music
Final Thoughts
Compared to a similar guitar membership site like Guitar Tricks,  JamPlay does cost a little more per month ($19.95 to $14.95) However, the monthly fee is still quite modest, compared to what you would pay for private guitar lessons and a bit cheaper than GuitarJamz which is $29/month
The only real downside with JamPlay is that you have the be online with a good broadband connection to enjoy the best possible experience. As far as I can tell, there's no way to download the videos to your computer for offline viewing.
If you are serious about learning to play the guitar and enjoy the idea of being part of a guitar learning community, you should definitely give JamPlay a serious look. At least check out the free lessons they offer on the site to see if you like it. JamPlay is suitable for guitar learners of all levels, and it's definitely a fun and enjoyable way to learn the guitar.
Check out the interactive sample lesson player below to check out some of the different things you can learn with JamPlay