In the 3rd installment of the Battle of the Guitar Courses series, we will be taking a look at my top picks for Blues guitar courses.
 Disclosure: We are sometimes awarded commissions on the sales of products and services featured on this site. We test each product thoroughly and recommend only what we believe to be the very best.
The Blues is one of the most fun genres to play on the guitar.  It crosses in to so many other genres such as jazz, funk, rock, acoustic and even metal. That is why learning to play the Blues on guitar will dramatically help your guitar playing in other styles of music as well.  With that said, you can imagine that there is more instructional material focused on the Blues than any other style of music.  It was hard to narrow it down to just 3.  Keep reading to find out which 3 I thought were contenders to face off in the Battle of the Blues Guitar Courses.
Be sure to check out the other posts in this series-
Battle of the Beginner Guitar Courses- DVD edition
Battle of the Beginner Guitar Courses- Online edition
On to the Blues-
Blues Learning System from GuitarTricks.com.
They have created a fantastic 12 DVD, 4 CD, 2 booklet Blues guitar course based on their popular core learning system.  The system is broken down into several detailed sections leaving no questions unanswered. These sections include:
2 Fundamentals of Guitar DVDs
3 Intermediate Guitar Lesson DVDs
3 Learn to Play Blues Guitar DVDs designed to bring you from a wannabe B.B. King to a master of emotion with your instrument.
4 DVDs made to bring your Blues playing beyond your wildest dreams, focusing on your Lead Techniques, Scales, Rhythm and more!
2 Physical Learn to Play Blues Guitar Lesson Books to supplement the course with TABs, Notation, tips and more
4 Disks Worth of Jam tracks so you can play EXACTLY LIKE your favorite artists
Topics covered include
The Basics of Guitar and Blues Essential Knowledge
Correct Posture and Technique
Cool and bouncin' Melodies
All the scales, chords and triads that made the King famous
Major chords
Minor chords
Barre chords
Advanced techniques
The secret trick to Giving your Playing that Blues "Feel"
Tone tips and secrets
How to Masterfully play "Blues with POWER"
How to get so creative with your licks you'll be writing originals in no time!
This course is really a one stop shop that will take you from beginner to a solid intermediate blues guitar player.
The cost is right around $149 and comes with a 60 day money back guarantee.  $149 for all of this material is a good price.
Check it out ===> Blues Learning System
Nate Savage's Blues Guitar Blueprint
Guitar instructor Nate Savage from the popular Beginner Guitar System has put together a fantastic blues guitar course called Blues Guitar Blueprint. The program comes with instructional DVDs with on screen music and TAB, 4 play-along CDs with 4 unique play-along songs and loops in several different keys, a spiral-bound workbook with step-by-step lessons and fully notated musical examples. Some of the lesson topics include: notes in the blues scale, how to use the blues scale, blue notes, passing tones blues licks, using arpeggios, jamming with a variety of play-along songs etc.
In DVD 1, Nate goes through some of the fundamentals of the blues such as common blues chords, chord progressions, how blues scales are made and blues scale shapes.  There is even a section on how to take your blues playing beyond the blues scale by using arpeggios, natural minor scales, mixolydian scales and more.
DVD2 is all about learning 41 blues licks that have been specially designed to help you learn how blues licks are made and how to create your own. The play-along section of the Blues Guitar Blue Print is where you get to put your new skills into practice. There are four very different blues play-alongs that will provide you with hours of practical fun. The play-along songs include Jazzy Blues, Minor Blues, 6/8 Quick Change Blues and Chicago Blues. Each play-along has two different versions, a full band version and educational version.  Each of the four play-songs has it's own dedicated CD. There are three versions of each play along, the full band version, a version with the guitars removed so you can be the guitar player in the band, and a version where the guitar is removed and a metronome is added in to help keep you in time.
The Blues Guitar Blueprint is nowhere near the size of GuitarTricks Blue Learning system but if you are looking for a solid introduction to the Blues and have some fun with the jam along section, then this may be the course for you.  There are 2 versions of this course- an online version for $67 or the physical DVD edition for an extra $10
Click here to get more info and watch a preview video ===> Blues Guitar Blueprint
Learn and Master Blues Guitar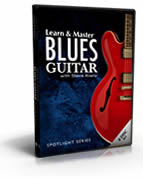 Instructor Steve Krenz from the award winning Gibson's Learn & Master Guitar released a Blues course as well called Learn and Master Blues Guitar.  This course has 6 instructional DVDs and a jam along DVD and CD with over 20 songs.  If you liked Steve from the Learn and Master Guitar Series, then you will definitely enjoy this course.  Each of the 6 main DVDs includes an instructional time where Steve Krenz teaches you the concepts in detail, followed by a workshop where you practice them together. The on-screen graphics make it easy to follow along, and a detailed menu allows you to jump quickly to any topic or exercise you may want to go over again.  Here are some preview videos to check out ===> Free Blues Guitar Sample Lessons
The Learn and Master Blues Guitar course sits right in the middle between  GuitarTricks Blues Learning System and Nate Savages Blue Guitar Blueprint in terms of depth of instruction and cost at around $99.  Again if you like Steve and his style of teaching, you'll definitely enjoy this course.
Click here for more details ===> Learn and Master Spotlight Series: Blues Guitar